I've been known to suffer from foot-in-mouth disorder from time to time, but my ultimate was when I gushed to a soon-to-be bride "So are you looking forward to Thailand"? Only to be met with a look from the fiancé that could make Railay Beach freeze over…I had ruined the honeymoon surprise. But hey, I mean EVERYONE goes to Thailand for their honeymoon, right? And why? Because it's one of the most incredible, vibrant, beautiful, diverse, tourist friendly, safe, relaxing, accessible, affordable and memorable destinations in the world. Having travelled extensively through Europe and the States, my life, work, love and travel partner and I finally decided to find out what all the fuss was about. So I set myself to the glorious task of travel researching and after extensive googling, and searching of facebook groups and blogs, I came up with an itinerary that was within budget and ticked all the boxes of city, culture, jungle and beach in two weeks. In this blog I will attempt to impart as much useful and honest information on where to go, what to avoid and what not to miss.
Our itinerary in a nutshell
We flew to Bangkok from Cape Town on Emirates via Dubai which involves a good 20 hours of travelling. Bangkok is usually the easiest departure point, but some flights do go directly to the smaller local airports of Phuket, Surat Thani, Krabi and Chiang Mai. We chose December for our trip as it coincides with our yearly leave and is the best time in terms of climate to visit Thailand.
Day 1: Bangkok
Day 2: Overnight to Chiang Mai (*See note below)
Day 3-6: Chiang Mai
Day 7-8: Khao Sok National Park
Day 9-12: Ao Nang
Day 13-14: Bangkok
*We had booked an overnight train to Chiang Mai from Bangkok which departs at 7:35pm and arrives in Chiang Mai at 8:40am. After what we thought was conclusive googling we'd booked a first class sleeper which was supposedly equipped with a TV, WIFI, personal shower and air con. Great! However, upon arrival the dismal, cramped, dirty compartment and shared toilet (minus shower and including Turkish toilet) was not quite what we'd expected. After 10 minutes of debating whether our relationship could last 13 hours of "roach coach" we abandoned the train shortly before it departed. My OCD travel planning was then tested to the max as I frantically searched Agoda in a Grab taxi on route to Khao San Road. Agoda coaxed me into a whopping 78% saving on a great hotel one road up from the party chaos. Our hotel then proceeded to call their on-site travel agent (who was already at home in her pyjamas) to come back and help us book a flight for the next day to Chiang Mai. Lesson learnt: overnight trains are not romantic, accommodation apps are your friend and no matter what, the Thai people will solve any problem for you. At a fee of course.
Travelling within Thailand
Originally the thought of taking internal flights seemed tiresome, but the domestic airlines are reasonably priced and the flights are generally just over an hour. As discussed, there was the option of the train to Chiang Mai which might be more bearable during the day where the passing scenery could distract from the interior. We flew VietJet to Chiang Mai and Asia Air from Chiang Mai to Surat Thani. Both airlines were a little delayed, but otherwise very good. We had also pre-booked a shuttle through a company called Phantip who took us from Surat Thani airport to Khao Sok and another shuttle from Khao Sok to Ao Nang. The shuttles were great, except that they usually involve being dropped off in the middle of nowhere, waiting for an hour and then being marched into another bus only to be dropped off 700m downhill from your hotel. But don't worry, you will always get to your destination eventually! For our flight from Krabi back to Bangkok I booked a private shuttle from Ao Nang to Krabi airport which was much better.
Accommodation in Thailand is extremely well-priced and the hotels we stayed in would have cost us four times the amount in South Africa. Being a little exercise obsessed, I tried to book most hotels with a gym, but be warned – the one place Thai people don't believe in air conditioning is in the gym!
Bangkok:
I found Bangkok very difficult in terms of hotels. Both of our pre-booked hotels were in the Silom district which is great for public transport, but not for restaurants and bars. Khao San Road on the other hand has an incredible night life, but does come with the disadvantages of noise and is not easily accessible by public transport.
Bossotel http://www.bossotelinn.com/
Trinity Silom https://www.trinitysilomhotel.com/
Villa Cha cha http://www.villachachaphraathit.com/
Chiang Mai:
Chiang Mai's old town is clearly distinguished in a 2.5km square which is edged with the canal and ancient city gates. This area is the best location to stay in within walking distance to restaurants, bars, shops and temples.
De Charme Hotel http://de-charme-hotel.hotelschiangmai.net/en/
Khao Sok:
There are numerous places to stay within the region of the National Park, but I would recommend staying near the town centre (which is a small 500m strip of road) within walking distance to the restaurants. We also embraced the jungle feel by staying in a bamboo hut which was surprisingly clean and comfortable.
Our Jungle Camp https://www.khaosokecoresort.com/
Ao Nang:
There are loads of hotels to choose from in Ao Nang and most in walking distance to the beach. Our hotel was located 1km from the beach which did involve a bit of a walk up the hill at night, but the hotel offered an hourly shuttle service and we could have taken tuk tuks if we really had to.
Hula Hula Resort http://www.hulahulaaonang.com/
Your ultimate Bangkok to-do list
 "Scenic" is definitely not the word I would use to describe Bangkok, but it's an incredibly interesting city, saturated with layers culture and urban energy. Navigating the city can be quite overwhelming at first, but we soon found that it is surprisingly ordered and extremely welcoming. Sites and destinations are not grouped together, so make the most of the public transport and take your time exploring without a strict itinerary
This is probably the first "tourist destination" on everyone's list, but I'll be honest…we didn't actually go in. We walked past though (if that counts?) and saw the endless queues and buses of tourists being herded by strict Thai policemen with whistles. Coupled with the fee of 500 baht each we decided to give it a skip. If you do want to go, I would suggest getting there when it opens at 8:30 to avoid the crowds.
This beautiful hand painted temple is definitely a must. It is located on the other side of the Chao Praya River and we accessed it via our day pass for the hop-on-hop-off boat ferry. Entrance is 50 baht and as with most Thai temples the dress code for temples must be adhered to.
Besides being the notorious backpacker hangout in Bangkok, Khao San Road is one of my favourite places in the city and possibly the only area where restaurants and bars are grouped in a similar "European" manner. Apart from the obligatory tasting of scorpions, the restaurants are very good and the vibe is incredible. Khao San Road itself is a little chaotic, but Rambuttri Avenue – which runs parallel to Khao San Road – is a little quieter. Our hotel for our unintentional extra night in Bangkok was located on this road and was possibly the first time I'd entered a hotel lobby, squeezing my suitcase in between a packed restaurant. Most bars are open until 2am and that night I had the craziest dreams from the constant background noise and awoke to the sound of a cockerel crowing. Mad.
Khao San can only be accessed via a Grab Taxi or tuk tuk and from the Phra Arhit Pier on the hop-on -hop-off ferry. If you continue down Rambuttri Avenue towards the river you will also come across some more restaurants and we had a fantastic lunch at the apply named "Ohungry" restaurant.
We experienced China Town on our first morning in Bangkok and apart from the great introduction to the distinctive "Bangkok smell", it was an entry into the colourful world of Thai markets and streetscape. The constant buzz of traffic combined with fluttering banners, sizzling street food and rows upon rows of street stalls is an experience that not even the best go-pro footage can describe. While we visited during the day, the Instagram photos of the vividly lit streets are just as worthwhile. We walked to China Town from our hotel, but it can also be accessed via the Metro.
Shopping centres in Bangkok
I didn't ever think I would list something like this as a tourist destination, but the shopping centres in Bangkok are architectural feats of retail mastery and a visit to at least one is necessary. Plus, they're air conditioned – definitely a win!
The Palladium World Shopping
Accessed via a massive sky walk, this shopping centre takes the traditional market and turns it into floors and floors of internal pop-up shops. It focuses mainly on fashion and textiles and while a lot of the designer brands are "questionable" the quality and prices are undeniably good. We traveled to the area via the Saen Seap Khlong Express water ferry, but it's not a far walk from the Metro and Sky Train stations.
The Siam Center was originally built in 1973 as one of Bangkok's first shopping malls. It has since undergone various renovations and now stands as a very interesting piece of architecture with over 400 high end stores. As architects, we found the building more interesting than the shops and even the interior of the toilets was worth checking out! Just one tip: don't attempt to try and find a quaint lunch spot in this area. After walking kilometres in its radius we just came upon more and more shopping malls (and I point blank refuse to eat in a shopping centre…ever). Luckily the area is very easily accessed by numerous sky train stations so we had a quick escape.
Nothing is small when it comes to the Icon Siam. Built as a mixed used development in 2018, it includes one of the largest shopping malls in Asia and the two tallest towers in Bangkok. It is so incredibly over the top and yet beautiful that it's worth paying a visit just to marvel at. The basement includes a Disney-like floating market and the radiating tiers of shopping floors are punctuated by a digitally programmed waterfall. While the best views across Bangkok are reserved for some seriously over-priced restaurants, the middle roof garden is beautifully landscaped with views across the city. Icon Siam is located across the Chao Praya River and we accessed it from our hop-on-hop-off ferry. There is also a free ferry from Sathorn Pier.
If high end stores are not really your thing than the bustling markets might be more down your alley (literally). Apart from the loads of street stalls, there are a number of must-see markets in Bangkok.
The question is not what you can buy at Chatuchak, but what you can't. With 8000 stalls ranging from clothing, to homeware, to ceramics and spices, it's pretty much your one-stop shop for all things Thai. The stalls are kind of organized into sections, but eventually one just ends up wandering and wandering for hours. At one point I had to Google map reference us just to make sure we weren't walking in circles! Chatuchak is located fairly far north, but easily accessible by Metro or the Sky Train.
Ratchada Rot Fai Train Market
The Train Market was originally located on railway land near Chatuchak, but was moved further south to Ratchadaphisek Road in 2015. It is also easily accessed by the Sky Train and opens from 5 pm to 1am. We went there on a Friday night and I think the words "wild" and "mad" were uttered quite a few times that evening! Not only does it contain the usual night market food stalls, but includes rows upon rows of market stalls, restaurants, rooftop bars and a generous amount of fairy lights and techno music. While the stalls below were a bit claustrophobic and chaotic, the view from above of the brightly-coloured canopies and live entertainment (and Leo beer) was so entertaining that we almost missed the midnight Sky Train back to Silom!
If you're travelling with children or don't mind a bit of "Thai Disneyland" then I would highly recommend taking a trip to this night market. Opened in 2012, the development includes theme-park entertainment such as a Ferris wheel and haunted house, restaurants, market stalls and even cabaret shows and Muay Thai boxing (which apparently is also just a show for tourists). So basically, it's a typical Thai city stage-set in a clean and accessible manner for tourists. That being said, we had a really good meal in one of the slightly shopping centre-like restaurants and enjoyed browsing through the stalls without the usual market harassment. Asiatique is accessed via a "free" (or 30 baht if you want to skip the queues) ferry from Saphan Pier.
We had the fortunate (unfortunate?) experience of walking through this night market a number of times as we desperately tried to find a bar close to our hotel. Unless strip clubs are really your thing, I wouldn't go out of your way to visit it. There are of course the usual street stalls which extends into Silom night market and it is quite "vibey", but not really a place to have a quiet cocktail and discuss the next day's plans.
One of my favourite things to do when travelling is to wake up early and go for a run (yes, even after our night at Ratchada Rat Fai!). Luckily for us Lumphini park was just 1km from the Trinity Silom hotel and trust me, it's literally the ONLY place in Bangkok where you can run. So I joined the thousands of Bangkok runners on their 2.5km anti-clockwise loops, passing the morning Thai Chi classes, the elderly couples eating bowls of noodles, paddle boats on the lake and even groups practising traditional dance. The park isn't quite on par with Central Park, but it's a welcome break from the Bangkok traffic and worth a visit. Just be warned: every day at 8am and 6pm some invisible person blows a whistle and everyone stands still like Simon Says to listen to the National Anthem blaring from goodness knows where.
Public transport in Bangkok is very efficient and easily navigable. The train system is in the form of the Sky Train (with a line that connects to Suvarnabhumi airport) and the underground Metro. Passes are easily bought from ticket machines per trip and are very reasonably priced. All trains are airconditioned to which is a big plus! Water transport is also possible on the Chao Phraya River via the Express ferries or the hop-on-hop-off tourist ferry as well as via the canals on the ferry boats. Just make sure you close your mouth during the canal trips as the water can splash and is very polluted! We also made use of the Grab app to access areas such as Khao San. Tuk tuks are virtually accessible everywhere, but be warned: they are known to scam tourists into "special deals". Crossing the road can sometimes be a little hair-raising as traffic doesn't necessarily come to a stand still at pedestrian crossings. The trick is to stick your hand out and they (should) slow down with enough time for you to cross.
Chiang Mai: a place of hidden treasures
The first thing I noticed in Chiang Mai was the complete change in scale from Bangkok. This was most noticeable in the old city where buildings are seldom more than two storeys and with main roads intersected with narrow streets that wind in between the dense city fabric. On more than one occasion we were almost taken out by a scooter appearing from behind a bend or said to each other "have we been down here before?" before coming across something completely unexpected and beautiful.
There are loads of excursions and day trips that can be made from Chiang Mai, but before you plan away all your time, arm yourself with google maps and get lost in the winding roads. In just one walk you're guaranteed to come across a temple (there are over 300), a massage spa, restaurants, bars, shops, street stalls and quaint buildings dressed in lush plants and timber paneling. Some restaurants and bars are grouped together and some are hidden in a side street offering ice cold beer and noodles for 70baht.
It has been said that if you haven't visited Doi Suthep, you haven't really seen Chiang Mai. I'd like to dispute that, but I would recommend making the trip. The temple can be reached by booking day trips, hiring a motorcycle, Grab taxi or the Red Trucks (Songthaew). We opted for the cheapest option of the Red Truck which we caught on Huaykaew Road and managed to share it with a group of French tourists for 50 baht each. Entrance to the temple is 30 baht each and does involve a bit of a walk up some steep steps, but the sight of the lavish temple at the top is worth it. It was quite crowded so if you want the perfect Instagram photos, I would suggest going earlier than we did. The experience was still beautiful and the sight of the golden spires and ornate decoration was incredible.
We got off the Red Truck at the Chiang Mai zoo on the way back down from Doi Suthep and did the short hike to the waterfall. Due to the low rain season in December the waterfall wasn't flowing very strongly, but it was a nice change from the city fabric. There are also a number of longer hiking trails from this area if you're willing to battle out the heat and humidity
As mentioned, there are  over 300 temples in Chiang Mai, so if this is your thing then you're spoilt for choice. We googled the best ones, put them into a google maps route and spent a morning walking the city between temples. The temples were Wat Lok Moli, Wat Rajamontean, Wat Chiang Mun, Wat Phantao and the largest and oldest Wat in Chiang Mai, Wat Chedi Luang. Each temple was unique with its own features and beautiful elements. Females are forbidden to show legs above the knees or bare shoulders, so I carried Thai pants (that can easily be pulled over shorts) and a light pashmina in my backpack.
Even if you're not much of a cook, taking a cooking course is a really fun way to learn about the Thai cuisine. We did a day course from 9 to 3pm with Thai Basil Cookery (http://www.basilcookery.com/home/). The day starts with a visit to the Somphet Market where we were shown the various available fruits, spices and vegetables and discovered surprising differences between gingers, eggplants, limes and chilies. I also learnt something new: not everything in a green curry or Tom Yum soup is actually edible! Back at the school we were given a choice between 6 dishes of noodles, curries, soups, stir-fries, appetizers and desserts which we devoured in between. There were only 4 people in our class and the interaction with our instructor was fun and informative. He even dropped us off at the market afterwards so that we could buy a wok!
This market lies just outside of the Old City and we reached it by foot, but you can also take a Red Truck, Grab or tuk tuk. The market is one of the most genuine Thai markets where you can buy a wide range of food, household goods and textiles. It was here that we purchased our wok and a large variety of cooking utensils at very reasonable prices.
Further south from Warorot is the Chiang Mai night market. For some reason I had battled to google the correct market and we ended up taking a grab to Ploen Ruedee which a quite a pleasant market with a few stalls and some live music. Luckily, we decided to walk further along Changklan Road and came upon the indoor Pavilion Night Bazaar, Anusarn Market and the Changmoi market which made Ploen Ruedee look miniscule in comparison! These indoor markets are massive and filled to the brim with retail stalls, food stalls, live music and bars. We managed to grab a table (and some Leo beers) and proceeded to make our way through chicken satay, spring rolls and kebabs purchased for sums of 30 baht or less. On certain nights you can even watch a (genuine) Muay Thai match or attend a cabaret show.
While the Old City's scale is kept low, the Nimman quarter to the north west of the city is punctuated by some incredible contemporary hotels and towers with rooftop bars. We took a Grab taxi to the Akyra Manor hotel for sun-downers at the rooftop bar and were rewarded with a city view, sunset and ridiculously over-priced drinks. The Instagram story was worth it though!
Chiang Mai has many hidden bars and nightclubs, but there is an area in Ratvithi Road where a number of bars are grouped together and if you're looking for techno thumping music and expensive drinks this is the place to go. A little further down there are quite a few quieter bars and I would recommend walking down Ratvithi 2 Alley which links to a number of restaurants in Moon Muang Road Lane 7. Other interesting hidden bars include The Lost Hut (seriously, I thought we would get lost getting there), THC Bar (which has a chilled rooftop bar and has nothing to do with marijuana) and Jack's Bar which also boasts a chilled rooftop vibe.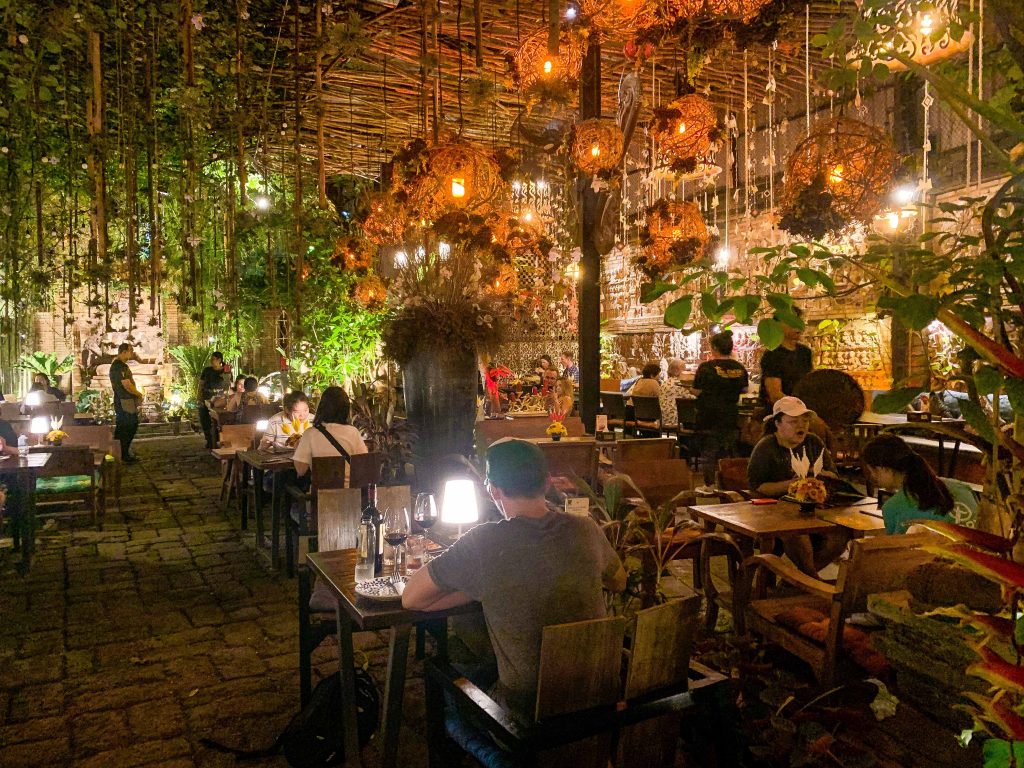 Chiang Mai is known for its restaurants and we stumbled upon a few that are worth mentioning. The FACES Gallery and Gastro Bar is located towards the south of the Old City and the setting alone is worth the visit. Hidden behind a solid timber door is a beautiful indoor-outdoor restaurant lined with carved panelling and filled with hanging plants and fairy lights. The food was a little pricier than usual, but had a unique Thai twist and completely worth it. We also had very good meals at Dash! Restaurant and Bar, The Old City Inn and ate some very good Khao Soi (a local Chiang Mai dish) at a completely hidden restaurant called "Tid Laom".
Maya Lifestyle Shopping Center
Located in the Nimman area, this shopping centre is worth a visit if you had some extra time to kill. As with most Thai shopping centres, it's completely over the top, but still architecturally impressive.
Due to bad planning on my part, we left Chiang Mai on a Saturday with the result that we missed the Chiang Mai Marathon by a day (gasp), but also missed the Sunday Night Market. I haven't researched too much into it for fear of FOMO, but apparently, it's really worth it!
Massage spas are everywhere in Chiang Mai. They can range from the small outlet off the street to luxurious spas and of course those that have neon flashing lights… We had intended to include this in our trip, but eventually the idea of lying still for an hour while being physically manipulated didn't sound that exciting. If you're wanting to try it out in a unique way there are massages available for as little as 120 baht for an hour at the Wat Paen Whaen temple or you could even get massaged by a convict from the Women's Prison!
Day trips and excursions from Chiang Mai
There are loads of day trips that can be taken from Chiang Mai to the waterfalls, elephant parks and jungle tours, but due to time and money constraints we decided to give these a skip. I would, however, be wary of the elephant parks as even the "elephant sanctuaries" are a bit questionable in their ethical treatment of the animals.
Getting around Chiang Mai
The cheapest form of transport in Chiang Mai is the Red Trucks also known as Songthaews…or "tourist cattle carts" as I liked to call them. They're basically converted pick-up trucks that provide transport to the various tourist attractions and routes. You can pick them up by hailing one from the road or your hotel can call them for you. It's cheaper to take them in a big group, but we managed to get one to the airport for just the two of us for 150 baht. Tuk tuks are also easy to get off the street, but they can be a bit more expensive and Grab taxis are easy to call from the app.
Khao Sok jungle experience
Khao Sok is situated in the heart of the jungle between Surat Thani and Krabi. The small village is edged by the Khao Sok National park which features the oldest evergreen rainforest in the world, huge limestone mountains and the Cheow Lan Lake. The lake itself was man-made in 1980 and includes 165 square kilometres of breath-taking scenery and floating bungalow resorts. After searching the tag on Instagram, I instantly knew that we had to include it on our trip. I'm not such a fan of camping or "roughing it" so was a little apprehensive about two nights in a bamboo hut, but the experience turned out to be one of our highlights and a once-in-a-lifetime experience. I had also originally expected to be stuck in the middle of nowhere, serviced only by our hotel, but the village was in fact very civilized with many restaurants and some crazy bars surrounded by jungle vegetation.
I did some research and came to the conclusion that it was virtually impossible to visit the park on your own and that it was best to book a tour. There are many of tours available to book from outlets in the village (jungle trekking, kayaking etc.), but I chose to pre-book a day trip from Our Jungle camp for the Cheow Lan Lake. I usually hate organised tours, but there were only 10 of us in the group and our knowledgeable guide made the experience very relaxed.
The day involved speeding through incredible lake scenery on a long-tail boat, trekking 4km in the jungle, crossing a river on a bamboo raft, exploring a hillside cave, lunching on a floating bungalow resort, kayaking and swimming in the lake and taking loads and loads of photos. We returned late in the afternoon confident that it was a day well spent.
Ao Nang and the Andaman Islands
If you're looking for an affordable yet scenic spot to access the Andaman Islands then the coastal town of Ao Nang is definitely the place. It's less touristy than Phuket, but is still packed with restaurants, bars, shops, great hotels and boasts a beautiful beachfront.
Ao Nang beachfront promenade runs for about 3.5km along Ao Nang beach and linking up with Noppharat Thara Beach. Not only was this strip fantastic for my early morning runs, but was edged with restaurants, shops and bars, making it a great place to stroll and enjoy the views. We found some really great restaurants along the strip as well as in main roads that link up to it. There are also a number of resorts that sit directly on Ao Nang beach and on Christmas Eve they all put on fantastic displays of lights and live entertainment.
Railay is located just south of Ao Nang and is accessible by Long-tail boat from Ao Nang Beach for 200 baht return.  Just a short walk from Railay Beach is Phra Nang Beach and cave which is a bit quieter and great for swimming. There are no restaurants on this beach, but in true Thai style there are a number of colourful long-tail boats equipped with kitchens and serving up a combination of noodles and ice-cream. To the north of Railay is a strip of lively restaurants, shops and bars which connects to Railay Beach East on the other side.
Following a tip from a Facebook group we continued up the beach walk and came upon Tew Lay Bar, hidden in grove of trees. The bar features hanging chairs, and bird nest seating which extends out onto the water, making it an idyllic spot to drink some beers away from the crowds.
The Facebook group "Thailand Advice & Travel Tips" is linked to a tour company called Andaman Islands Tour and Travel (https://www.facebook.com/Andamanislandstravel/) and following the rave reviews on the page I decided to book with them for the Phi Phi and Bamboo Islands day trip on speed boat. There are numerous companies that organise similar tours which can be booked from outlets in the town or at your hotel. Once again I had to forgo my dislike of organised tours as it's pretty much the only way to see the islands. The communication from the tour company was exceptional right from making sure that we were picked up from the hotel on time to asking how we enjoyed it. I did, however, feel very much like a herded tourist, particularly as we were squished into a "cattle cart", herded into groups at the pier and had lunch in what I can only describe as a mess hall (although the food was very good!). That being said, it made for a very systematic and well-organised tour as we saw the beautiful Pileh lagoon, Monkey Bay, Maya Bay (from the boat), Phi Phi Don and Bamboo Island. We were given loads of time to snorkel, swim, relax and get some breath-taking photo opportunities, so overall it was worth it.
Hong Island is situated north of Ao Nang in the National Park and after trying to work out how to get there ourselves, I once again came to the conclusion that it was worth the money to spend on another tour. I booked last minute with Andaman Island Tour and Travel via Facebook and was very impressed by their quick response. This time I booked a longtail boat in the hope that it would be a smaller group and found the experience a little less cattle-like and more genuine.
The tour took us to the beautiful island of Koh Lao Lading where we had a "packed lunch" (read: full spread of amazing Thai dishes produced from somewhere on the boat) beneath palm trees in a blue water cove. Much better than the mess hall! We were also able to visit the Hong Lagoon and spent a good 2 hours relaxing and swimming in the clear wave-free Hong Beach. The tour once again left me feeling happy with the money spent.
This outdoor market is not quite on the scale of those in Chiang Mai or Bangkok, but well worth the visit. Night markets are also often a lot cheaper than restaurants and came with the benefit of choosing your food by sight and smell rather than hazy photos on a menu. We also had the best chocolate ice cream rolls here which is worth ordering just to watch the process!
Since we were mostly moving between our hotel and the beachfront, we either used the hotel shuttle or just walked. Taxis and tuk tuks are easy to get though. 
From stir-fries, to Pad Thai, to green and red curry, spring rolls, chicken satay and tom yum, we had it all. Sometimes even for breakfast! My advice is to eat as much Thai food as possible and avoid Western Food (which is actually more likely to make you sick). We often bought juicy, ice cold pineapple from street vendors, but did tend to avoid the stalls right on the edge of the busy roads. Even the simplest restaurant will make amazing bowls of noodles and I only almost died once when I asked for extra spicy!
Frequently asked questions
Shorts, t-shirt/vests, good walking shoes, flip-flops, swimming costume, hat, sun-tan lotion and sun-glasses. Make sure you have a lightweight backpack and keep your suitcase empty as you'll want to make space for all the clothes (and woks!) that you buy. It only rained once when we were there, but when it did, it poured, so a rain jacket might be a good idea and obviously a must if you travel in the rainy season. Chiang Mai was quite cool in the evenings and we did actually wear jeans a few times and needed a lightweight jersey.
What should I buy when I get there?
Thai pants (perfect for the jungle and temples), mosquito spray (the pink bottle from 7 Eleven), a sim card (we bought an AIS unlimited one month data for 250 baht) and basically anything that takes your fancy at the market.
Should I exchange money in advance?
I think we were able to swipe our cards once in Thailand, but otherwise we simply drew money from the many ATMs. Even Khao Sok has an ATM so don't worry about not being able to get cash. Just make sure you unblock your cards from your bank before you leave.
No, and I think I get more bitten by mosquitoes in South Africa than Thailand. The pink spray is seriously the best though!
I ended up losing my voice at one point (which was slightly hilarious in hindsight). This was probably due to all the running I did in traffic and luckily, I had brought a range of medication with me. The pharmacies are apparently very helpful though and we probably should have worn masks more than we did.
Very. Coming from South Africa, I felt far safer than I do at home. That being said, there are pick-pockets so don't be completely unaware.
How much money do I need?
That really depends on how much you want to spend. Food and accommodation for us was a lot cheaper than South Africa, whereas alcohol was pretty much the same. Wine unfortunately for me was extremely expensive and absolutely awful so not worth the money. Most meals in a restaurant range from 150 to 250 baht with a large Leo beer ranging from 100 to 150 baht. Cocktails were often on special for 100 baht, but could be over 200 depending on the place. Public transport can range from very cheap (45baht for a Sky Train trip) to moderately expensive (150 baht for a Grab trip). Clothing is much cheaper than elsewhere (100 baht for Thai pants) and if you barter you can get it for even cheaper! Tours are probably the most expensive items, but worth the money
When is the best time of year to visit?
We went in December, which is effectively their winter and so was not as hot and not as rainy. Since it was over Christmas, it was very busy and if you can go in January or February it might be a bit quieter.
What apps should I download?
We booked accommodation through Booking.com and Agoda so these apps are essential. Google maps is a must for navigation and we used the Grab app (similar to Uber) quite a lot. We also downloaded Google translate and while most signage was in English, it helped when our bill once came in Thai and we had been over-charged.
How do I get from the airport to the hotel?
If there's one thing you do not have to worry about in Thailand, it's transport. You will easily find a taxi at every airport and will be able to organise shuttles through your hotels very easily.
Essentials to always carry with you?
Avoid carrying your passport around, but you will need it to apply for a SIM card. Always carry water, sun screen and cash. Ladies: Thai pants and pashminas for temples and make sure tissue paper and hand sanitizer are always at hand. For island tours the hotels will usually provide you with towels.